As some of you will remember, Winstep was one of the few skinnable applications that actually had a GUI interface to skin it: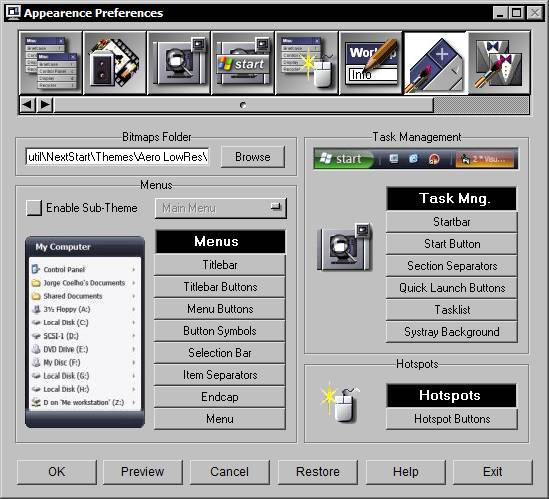 Unfortunately all that changed after v9.5. The UI was completely revamped and, since only a very small percentage of users are actually interested in making skins, all skinning options were removed to help minimize the common complaint of UI clutter.
This was supposed to be only for a short time, only while all those skinning options were moved to a separate dedicated application. But that's not what happened, as time went on adding new features became a much bigger priority than the dedicated Theme Builder which ended up becoming nothing but a distant memory of a promise.
This forced some Winstep skinners to run a separate copy of v9.5 only to make skins, while others ended up delving into the INI configuration files directly.
Well, the wait is finally over (it's been so long that saying this almost feels like a joke, but it really isn't). So I give you the first foundations of the new Winstep Theme Builder: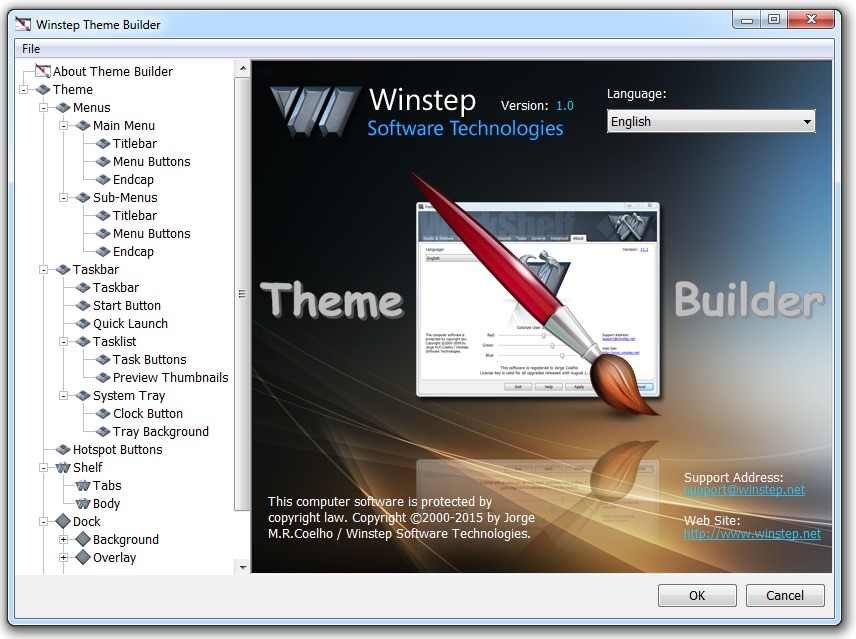 The Builder is currently work in progress, so if you would like to chime in on how you think it should actually work, now is the time.
I started with a basic idea of a component tree view on the left with the actual skinning settings on the right. If you're running Nexus free, only the components for Nexus show up on the tree view, if Ultimate, only the components for Ultimate, and so on.
Also, to keep things simple, instead of making a 'mockup preview' of the theme being worked on in the Builder itself (which would mean duplicating a lot of code and bloating the Builder) the applications themselves are used to preview skins (actually not different from what happened back when the skinning Preferences were part of their GUI). So you press a button and the theme you are working on is instantly applied to Winstep Xtreme, thus allowing a 100% correct preview of what you are doing.
Something else that was very important was to make things easier to the skinner. Winstep skinning is based on using specific filenames for bitmap files (e.g.; nxbacktop.png for the background of a dock at the top, titlea.png for the titlebar of an active menu, etc...) and there are so many of them that they are hard, if not impossible, to memorize.
So, wherever a bitmap is required, the Builder accepts a bitmap file to be drag & dropped directly into it. The Builder itself will take care of giving it the correct name, so skinners no longer need to remember those.
Something else I wanted to tackle is the fact that there are virtually no skinning tutorials even for some very well established skinnable applications out there. It's like if skinning was some arcane art that needed to be passed by word of mouth.

So, to help newbie and professional skinners alike, the Winstep Theme Builder will be as much a skinning tutorial as it is a theme builder. Skinning basics will be explained in it, and every setting, what it does and what it affects, will be described in detail with illustrated examples wherever possible.
Of course, all this also means that what once (in the old v9.5) required a single panel of settings now requires several pages. But I think it's worth it.
Old skinning pannel for Nexus: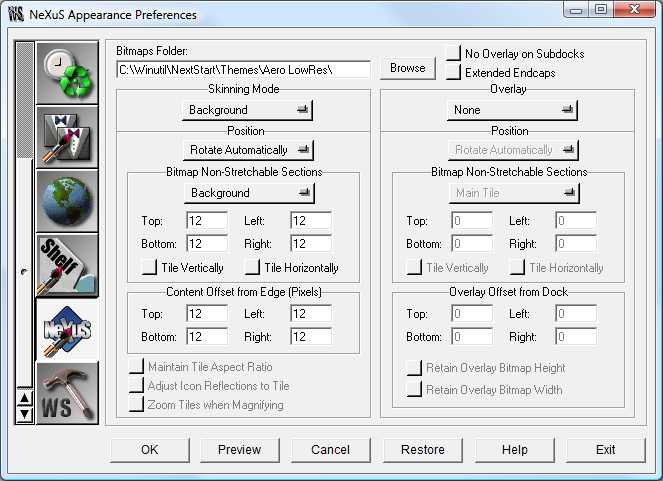 Same thing in the new Theme Builder: