nexter wrote:
Bummer about the previous system - but lucky it didn't blow anything else. Funny things can and do happen sometimes. Cards can come just a tiny bit loose, plugs can come loose, all sorts. It's always a good plan a) to never move anything while plugged in, and b), to check all connections after moving if possible.
I didn't move the old system while plugged in. What threw me off and made me think it was a static electricity and/or a ground problem instead of a short circuit somewhere was that the office has a carpet and I would only get shocked *once* after touching a metal part of the case. Grabbing it again a second time would have no effect.
I would have to sit down on the chair and only then grab the case again to get shocked a second time.
Of course, hindsight is 20/20. I think it would have been ok (i.e.; no permanent damage done) if I had managed to diagnose the issue in time and forcefully reseat the GPU card before anything else. Once I heard the fan inside the case ramp up furiously while trying to determine if the DVI-D video connector was properly inserted, I think that's the point that the GPU chip itself got fried - connector must have made contact with the case, injecting lots of volts directing into the GPU.
nexter wrote:
So, otherwise, it's all fun and games now I take it?

You think? LOL
It's a lot of work and very time consuming moving everything to a new system and getting everything set up correctly.
I already overclocked it to 5Ghz with 1.3v and level 7 Load Line Calibration to make it AVX stable at that speed. Temperatures running Prime95 (with AVX enabled) stay in the lower to middle 80's, so that's fine.
Overclocked the 2080ti a bit too (ALL the new cards are extremely limited on how far you can go due to a low power level ceiling). With my old 980 ti I would get about 40-45 FPS at 4K on games like the Witcher 3 and Assassins Creed Origins, but I needed to set some graphics settings to High or Medium.
With the 2080ti I get 60-70 FPS with literally everything set to Ultra-High (even nVidia's Hairworks).
Currently I have the Intel Optane connected to the 16x PCIe slot which is in turn connected to the motherboard chipset and not directly to the CPU (so the graphics card is in x16 mode) but I am considering changing that. As it is, the Optane has to share x4 bandwidth with everything else on the system plus I imagine there is some added latency.
If I put it in the remaining x16 slot that is connected directly to the CPU, I could have it working at full speed (but, of course, that would make the graphics card run at x8, which might not be a biggie).
On the other hand the 2080ti is a 3 slot monster and doing so would put the Optane flush with the video card, minimal gap - probably not a good idea temperature wise for BOTH cards as the Optane already runs pretty hot as it is (45c when IDLE) and would then also be choking the GPU fans.
But - ah-ah! - the C700M case comes with a graphics card mount with Riser cable, originally intended to put the graphics card vertical instead of horizontal (which is the classic setup), i.e.; put it in a configuration like this (NOT my setup, just a picture from the net):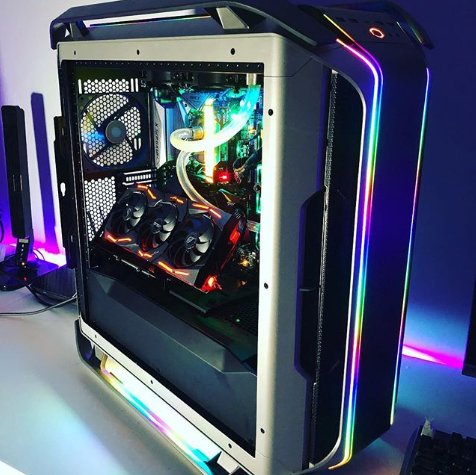 This is not something I would do since it typically increases the temperatures the GPU runs at over the standard configuration, especially in a case like this that has no vents on the side panel (solid tempered glass).
But I could use the riser cable with the Optane instead, which would allow me to connect it to the remaining CPU x16 PCIe slot *and* keep it away from the graphics card and all the heat around it. It would probably look a lot nicer than it does now too - main drawback being that the graphics card would then be running at x8 instead of x16. Some says this only leads to a 1% loss in most games, though, especially at 4K - might be worth it.