So, sometimes you come to the conclusion that newer isn't always better.
I work all through the night very often, so most of the time I am wearing headphones. In fact, normally I only switch to speakers (like the new SB Katana) when I want to share audio with others.
I also love to take the headphones with me so I can keep listening to whatever I was listening to while I go fix something in the kitchen to eat or drink, etc, so for me wireless headphones is the way to go.
Many, many, years ago (more than 8 for sure) I accidentally brought myself some wireless Sennheiser headphones. They were actually quite cheap and little did I know back then that I was buying real quality - it was only later that I learned how well known the Sennheiser brand was to audiophiles.
What I got back then were the Sennheiser RS 130, which cost less than 80 Euros or so.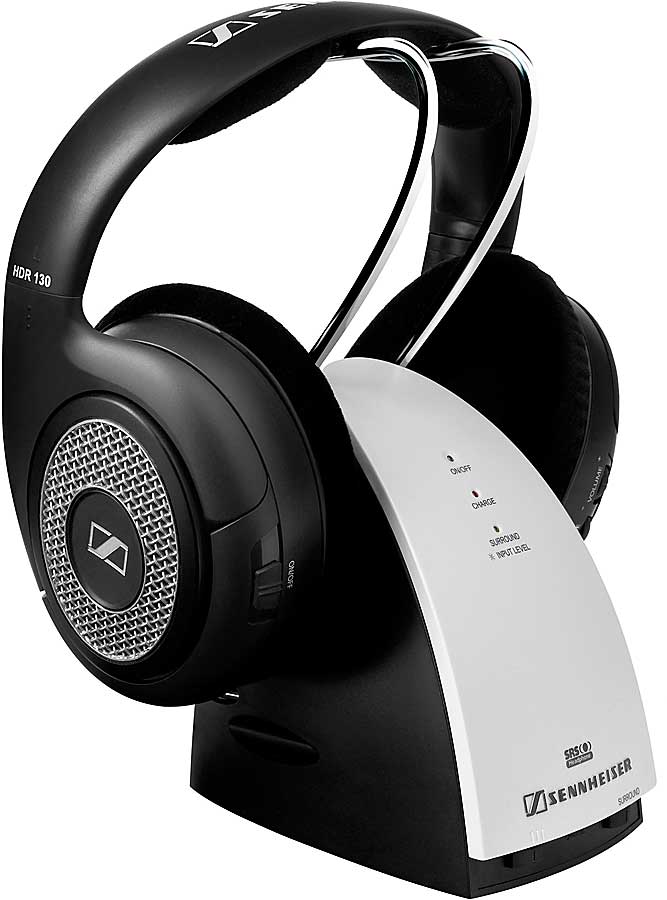 I was really, really happy with those headphones as they had some very handy features I'm surprised are not found in all modern wireless headphones. It used normal AAA rechargeable batteries, and to recharge them all you had to do was place the headphones on their base (which was also the transmitter), the most natural thing to do. This would make metal contacts in the headphones and the base touch each other and the headphones would automatically start recharging.
Operating time was approximately 22 hours, which was much more than adequate, unless you fell asleep and forgot to place them on their base. Even then, the headphones would automatically cut off to save power after a short while if they stopped detecting an audio signal - and would automatically resume playing again as soon as they re-detected a signal.
When placed on the base, they would obviously turn off while charging, but as soon as I picked them up they would instantly turn back on - all I had to do was put them on my ears.
The headphones were open (open circumaural wireless stereo RF headphone system) which gave them a very rich sound, and were also extremely light, which meant I could use them for hours on end without them ever becoming uncomfortable at all. So many times I fell asleep on the sofa with them still on!
These were also RF analog headphones, not digital, but this meant that their range was phenomenal: there was no place in the house where I would lose signal, regardless of how many walls there were between the headphones and the transmitter (Sennheiser claims a range of up to 150 meters, they were not exaggerating).
Now, keep in mind that these were headphones I used all the time and nearly every day. Still they lasted YEARS without problems, only the Sennheiser logo at the top started fading away and the ear foam started turning a bit brown. Alas, nothing lasts forever, so less than a couple years ago the contacts on the headphone buttons eventually started going bad, and the headphones would turn off if my head touched a pillow with them on, which quickly became really annoying.
So, I figured it was time to get some newer Sennheiser headphones, this time something a bit more modern and stylish. After some research I ended up going for the Sennheiser RS 175, which at the time cost about over 250 Euros ($280 USD or so), so 3 times more expensive than my old headphones.
Now, those headphones look really good. High end audio specs too.
But oh how disappointed I was when I finally got them! I'm not an audiophile, so sound quality - something in which the RS 175 are without a doubt far superior - is not the most important thing to me.
First the range sucked. With the RS 130 I could go outside all the way to the garden while still listening to music, and I could go up two flights of stairs without losing signal. But this would turn off as soon as I crossed the door to the garden or climbed one floor.
Worst of all, unlike the RS 130, they would not automatically turn on when picking them up from the transmitter. I had to press - and keep pressing for over a second - a really small touch button at the back. This was infuriating, because sometimes you wanted to listen to something quickly and you would miss it because of how long it took for the headphones to turn on - and that not counting the times you thought you were pressing the really small button but were in fact not, which resulted in you wasting a lot of time waiting until you realized what was (not) happening.
I really have no idea what is wrong with a simple mechanical on/off switch - they really should have used that instead.
The volume button on the RS 130 was an analog rotating knob you could easily feel. The volume buttons on the RS 175 are two + - touch buttons you have to blindly press. Worse, there are two identical buttons right above them to control dynamic bass and virtual surround. Because you have no real tactile feedback on where your fingers actually are, you can already guess what happens when you try to change the volume with the headphones on your head.
The RS 175 are closed circumaural headphones. While comfortable, they are nowhere near as comfortable as the RS 130. After a few hours heat starts building up on your ears and you have to take them off.
Finally, it quickly became painfully obvious that the 175's are audiophile headphones not intended to be used all the time: a little over a year later, the thin 'skin' that covers the ear foam started breaking up and coming off on BOTH sides, which made the headphones look really cheap.
A handful of days ago I removed one of the ear pads to see what the connection looked like so I could get replacements, and the little plastic hooks simply broke when putting it back on. I could still glue the ear pad with double sided tape, but that was the straw that broke the camel's back.
The RS 130 are no longer available anywhere, but I decided to order the next best thing, the RS 127, which I could still find on Amazon. Identical in everything to the RS 130 except that they don't have virtual surround (a feature I NEVER used anyway), they are never-the-less a more stylish black, which I prefer to the black & white version of the RS 130.
They arrived just a few hours ago. Oh how happy I was to be able to go out into the outer edges of the garden and NOT lose signal eheh
Wonder if the RS 130 transmitter works with the RS 127 headphones. Will have to give it a try later.