winstep wrote:
As for putting the Optane on the CPU PCIe slot using the riser cable, I ended up deciding against it. First I couldn't get a definite statement in relation to performance improvements - not even from an Intel tech on the Intel forums - second I read that riser cables can lead to signal degradation, or worse if the wires inside the cable break due to the cable being bent.
Well, curiosity took the best of me and I ended up plugging the Optane directly to the CPU PCIe slot to see what the difference would be. I also tried installing it vertically on the graphics card holder using the riser cable to see what it would look like.
Both options ended with me reverting to the previous original configuration.
As an Intel tech correctly pointed out, regardless of anything else the limits are in the drive itself.
According to CrystalDiskMark 6.0.2 x64, there was literally no difference in terms of Q32T1 sequential reads and writes (2670 MB/s read, 2360 MB/s write).
If anything, 4K writes were actually WORSE with the Optane connected to the CPU PCIe lanes (4KiB Q8T8, CPU: 850 MB/s, PCH: 1060 MB/s - 4KiB Q32T1, CPU: 160 MB/s, PCH: 190 MB/s, all other results were basically the same).
Even copying a 40 GB file from my Samsung 970 2TB M2 drive to the Optane showed no improved performance, the opposite in fact: with the Optane connected to the CPU lanes, I got a max of 1.8 GB/s. With the Optane connected to the PCH, I got 2 GB/s.
These results are all with the drive connected directly to the PCIe slots.
I also tried it with the riser cable (just to see what the system would look like with the drive vertical) connected to the PCH PCIe slot. I can't be sure because results with AS SSD Benchmark were all over the place (I used AS SSD Benchmark for this, unfortunately) but it *seemed* like the riser cable (shielded) made sequential reads and writes WORSE by about 250 KB/s. Guess the extra distance signals need to travel does have some influence.
I didn't like the look anyway (the graphics card holder with the drive in it partially blocked the view to the graphics card and the motherboard, plus it made the inside of the system look more cluttered than before), so I ended up reverting everything to how it was previously.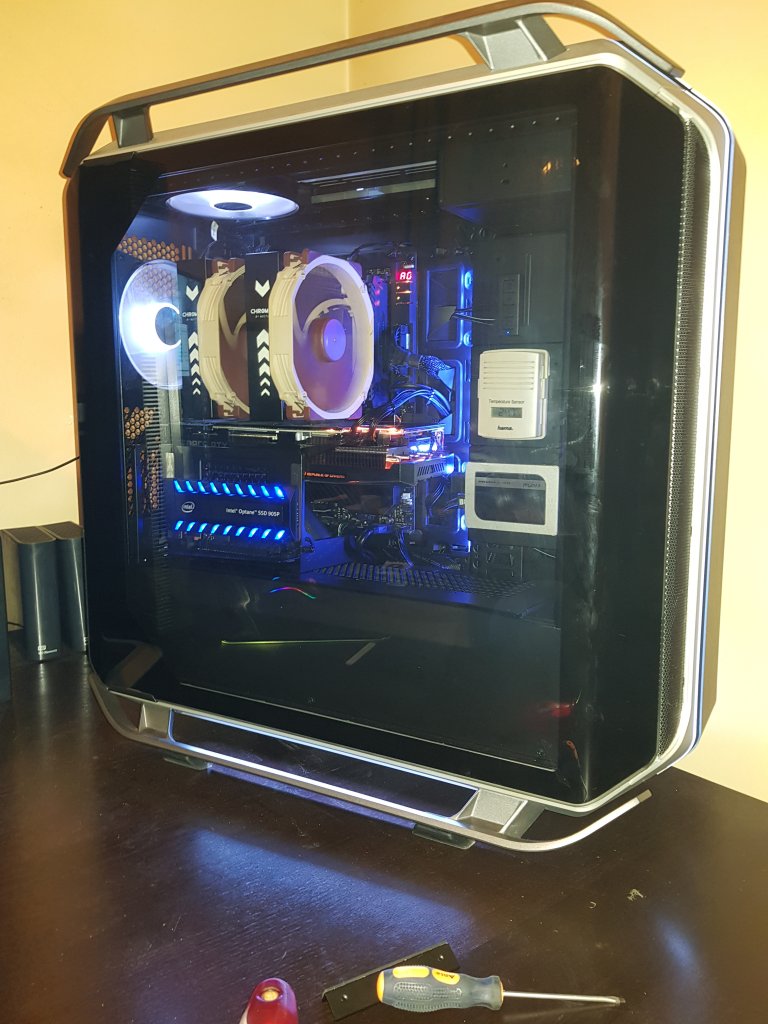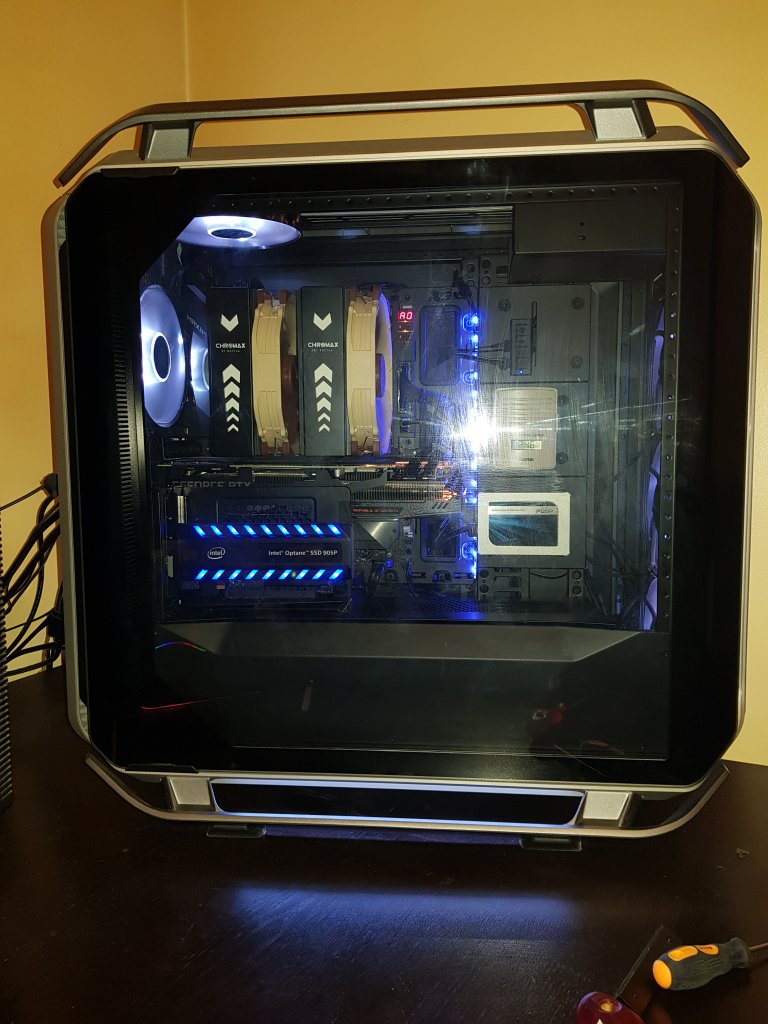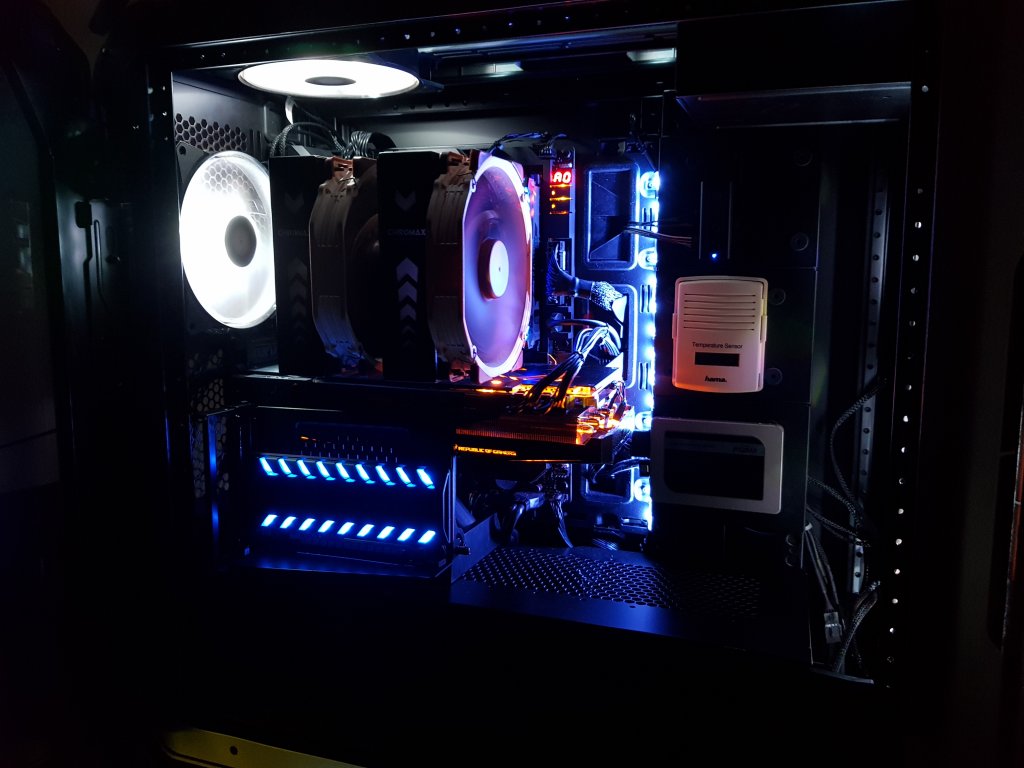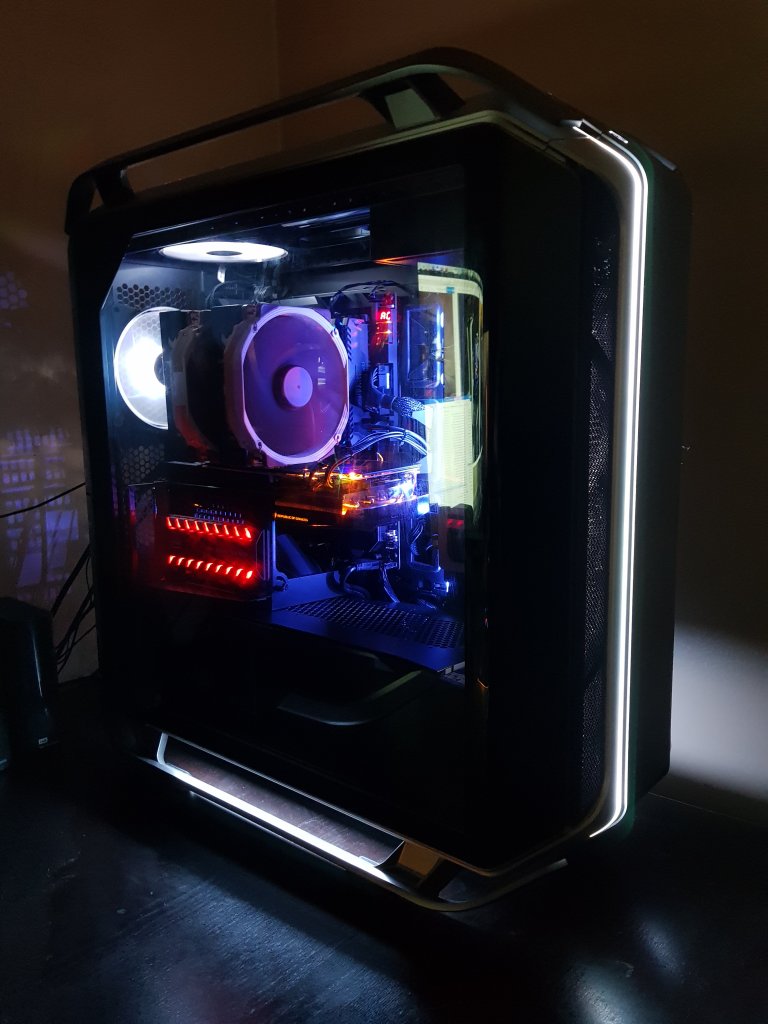 Above with the Optane in vertical configuration using the graphics card holder and the riser cable (the Optane allows limited configuration of the LEDs: either blue, red, green or off).
Below in normal configuration, as it is now and was before: makes the system appear a lot more 'cleaner' than the above option: