Ok, pay no attention that the banner for the new WS Preferences is still the old Nexus banner. Also, I'm running that from the IDE, so the buttons and controls are not being 'skinned' by the OS.
What you can see below are the new Preferences pages for Modules and Theme Management (which were the most difficult to do because I had to change not only the looks but also basic functionality).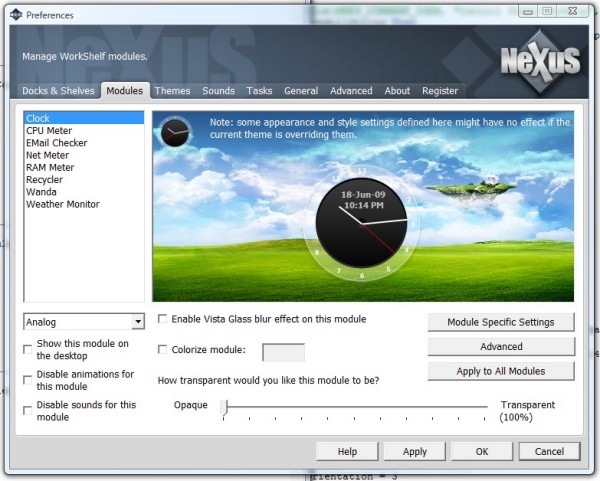 Note how the module list is now a list box instead of a drop down combo box. This makes it much easier to select a module and also calls the attention of the user to the modules that are currently available for him to play with.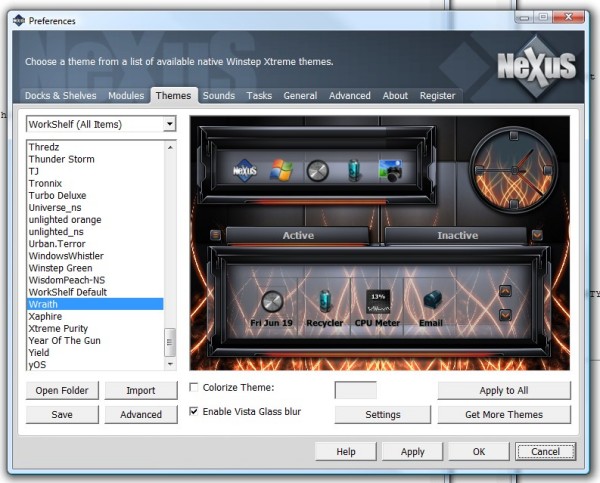 As you can see, WorkShelf (like Nexus) now generates theme previews in 'real time'.
Of course, when implementing the new Themes tab I noticed the differences in implementation between the Nexus Themes tab and the older WorkShelf themes tab.
In the former once you select a theme reflects in the rest of Preferences (i.e. go to another tab and back to the Themes tab, and the new NX theme you just selected is still active).
In WorkShelf, moving to another preferences tab and then back would display the currently applied theme instead. Also, moving into the Modules tab would preview the modules for the currently active theme, not for the new theme you just selected. To load a theme you actually had to double click it or click on the Apply or Ok buttons WHILE STILL on the themes tab.
So I think that, for the sake of consistency, the WS themes tab should perform the same way as the Nexus themes tab. Once you select a theme in it, that's it, that's the theme that will be applied unless you press Cancel.
What do you guys think?
Also, do you see that 'Docks & Shelves' tab in there?
In antecipation for the day WS supports multiple-shelves, I decided to separate all Shelf related settings from the main Preferences screen (just like you have separate Properties pages for each dock).
So, essentially you have a main Preferences screen (which you can see in the pictures above) and then, for each dock you have a separate Properties screen with the following tabs:
Position & Behavior
Appearance
Effects
Themes (I decided to 'merge' the old Dock Style Editor with Dock Properties - makes all the sense in the world).
and a separate Properties screen for the shelf (or for each shelf when we have multiple shelves) with the following tabs:
Position
Behavior
Effects
Themes
The later Shelf Properties tab would display a list of shelf only themes, just like the Nexus themes tab does the same for dock themes, and is essential because once multiple shelves are supported, each shelf will be able to have its own theme (just like NX does now).
So, any thoughts?